The term 'lactation' (breast feeding) refers to the process by which the mother produces milk to breastfeed, whether directly or through expressing or pumping breastmilk. Where breastfeeding is healthy for your baby and a wonderful way to bond with them it has also been shown to lower a woman's risk of breast cancer due to its positive effects on hormones, damaged cells, and genes that either fuel or help protect one from the disease
How can breast feeding prevent breast cancer?
Here are several reasons why breastfeeding protects
breast health:
making milk 24/7 limits breast cells' ability to misbehave
most women have fewer menstrual cycles when they're breastfeeding (added to the 9 missed periods during pregnancy) resulting in lower estrogen levels
many women tend to eat more nutritious foods and follow healthier lifestyles while breastfeeding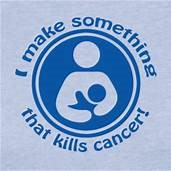 One very large study showed a 4.3% reduction in relative risk of breast cancer development for every 12 months a woman breastfeeds Another review demonstrated a 14% lower risk in women who had breastfed, compared to those who never breastfed.
Breastfeeding can be a challenge after a breast cancer diagnosis. After a double mastectomy, sadly, breastfeeding is impossible. After lumpectomy and radiation, the treated breast usually produces little or no milk, but the other breast usually can make milk normally. The milk from one breast may be enough or you may have to supplement with formula. Some women may choose to use a breast milk donor. An experienced breastfeeding coach can help you figure out the best possible solution for your unique situation.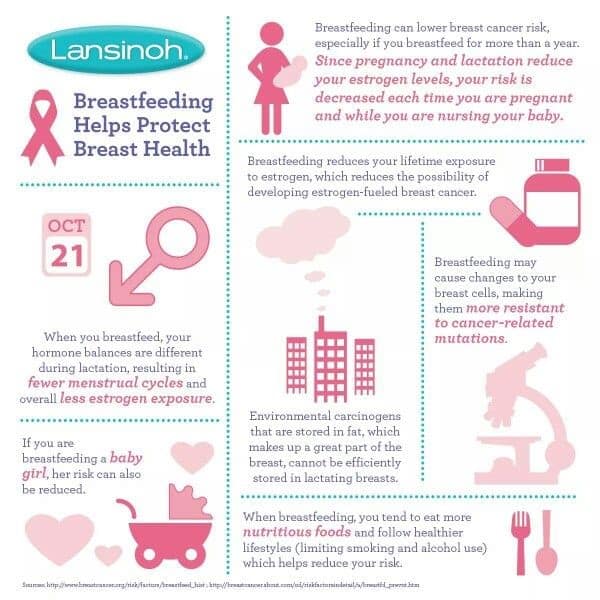 Duration of Breastfeeding
The choice to breastfeeding is a very personal one, but there is some evidence that doing so for longer than 6 months may reduce your risk of breast cancer regardless of your age or menopausal status.
This is supported in part by research in which women in developing countries like Pakistan⁠—⁠who almost invariably breastfeed longer⁠—had comparatively lower rates of breast cancer.
Some studies have also suggested that breastfeeding protects against hormone receptor-negative breast cancers, including an aggressive type known as triple-negative breast cancer
Based on these findings, the researchers postulated that increasing the rate and duration of breastfeeding in all countries, regardless of income, could prevent as many as 20,000 deaths from breast cancer each year.
Therefore it is recommended to breast feed your baby for minimum 6 months to about 2 years.