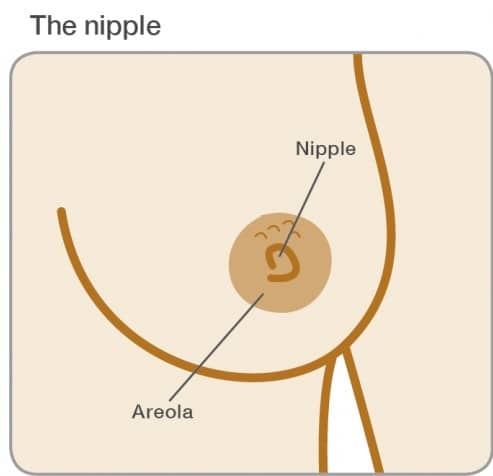 WHAT IS AREOLA:  Areola is the pigmented round area on your breast while the nipple is in the center of the areola. Nipples change throughout the life span in men and women, the anatomy of the nipple can change and this change may be expected and considered normal. However, nipples may show very important warning signs corresponding to some underlying breast diseases. Hence it's important to observe nipples during self-exam.
It is very important to remember that the human body is diverse and the apparent changes in one's breast or nipple may be completely normal for the other. So know your normal type and go to a doctor when you see or feel changes in your normal features.
Breast changes you don't need to worry about:
Breasts experience several changes during the lifetime of a woman and it's completely normal and healthy. Following are some changes you don't need to worry about:
Increase in size of breast and darkening of areola during puberty. The nipple becomes erect and sticks out. These changes start between the age of 8-13 and are completed by 18-20 years.
Sore nipples during or before menses. Other changes normal during menstruation are breast swelling, tenderness (painful to touch), and slight changes in textures. These changes are normal and bearable & can be improved by home remedies.
ON THE OTHER HAND IF YOU FIND ANY OTHER CHANGE OR ANY ABNORMAL FEATURE CONTACT YOUR DOCTOR AND BOOK AN APPOINTMENT