The world has witnessed extraordinary responses to the Pink Illumination campaign in the past few years. Last year more than 50 buildings were illuminated in Pakistan alone in support of the cause of Pink Ribbon and this year we aim to cross 100 buildings.
This year for the mega illumination campaign, we aim to achieve maximum landmark structures to be illuminated together for the cause of breast cancer. Pink Ribbon invites you to join its popular Pink Illumination campaign through illuminating your building with pink lights in this PINKtober.
Global Illumination campaign is a unique initiative to put the spotlight on breast cancer awareness by illuminating buildings, monuments and landmarks around the world in a glow of pink light. Some of the famous landmarks turned pink worldwide in October are:
Empire State (United States) White House (United States)
Since 2012, Pink Ribbon Pakistan has been celebrating October by illuminating the important landmarks and buildings in Pakistan such as
Minar e Pakistan

Mazar e Quaid

Pakistan Monument

The President House

The National Assembly

Supreme Court

State Bank of Pakistan

Federal Board of Revenue (FBR)
Pakistan Telecom Authority (PTA)

Ministry of Foreign Affairs

KPK Assembly

Faisal Mosque

WAPDA House

Government College Lahore

Universities
ARFA Tower

FFC Tower

Ufone Tower

UBL Head office

MCB Lahore

Serena Hotels

The Centaurus Mall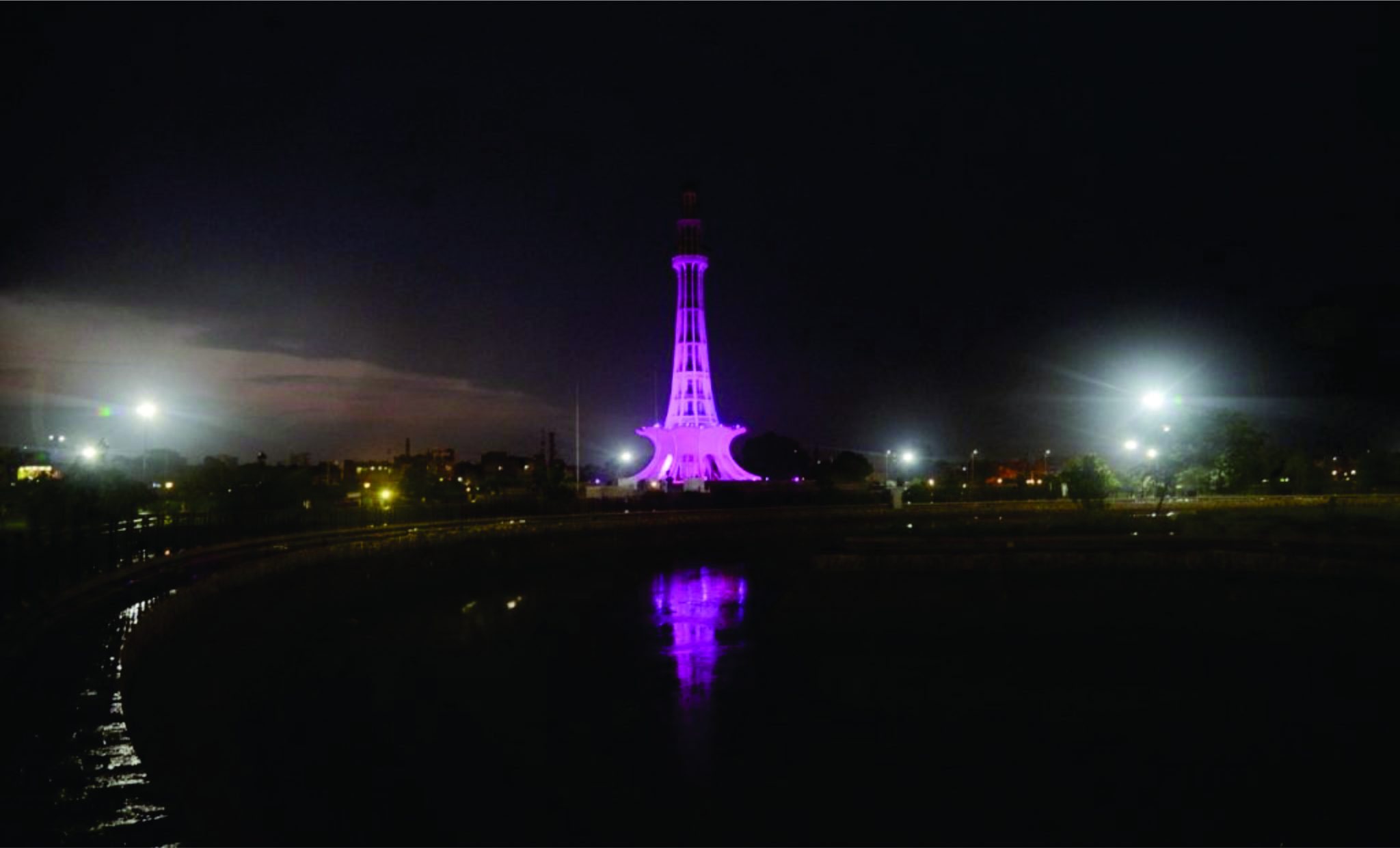 It is a Media and Photo-Op event, it only requires a small gathering of the institute's management/official spokespersons and media persons.
A small media ceremony at the time of sunset in the presence of special guests, management and media
A media wall to be set up at the location
Minimum preferred size 8×8 ft
Joint Media invites to be sent out 4 days prior to the event for maximum
Pink Illumination is an International PR event which promotes and creates a lot of national and international coverage due to its unique nature. All the print, digital and electronic media follow and give coverage to the event.
It will build a very soft and positive image of your organization among the stakeholders for contributing to the cause of breast cancer.
By illuminating your building, you will not only raise awareness about the cause but also promote your business and get publicity. You can get the word out about the event by posting on your social media platforms and your website.
Participating in the activity will convey the message to your stakeholders that you truly do care about your community.
Consumers have a better outlook on businesses that give back to a charity they care about. So, giving back to your community will help you gain massive traction with your consumers.
Additional benefits Pink Ribbon may provide
We can arrange a chief guest related to your field
We can arrange media to give hype to the event
Promote the activity with your name and logo on our social media
You will have to contact vendors who can provide you with the following lights that can illuminate your building
LED lights
SMD Lights
Flood Lights
The final date of the event will be set mutually by Pink Ribbon and the organisation in order to avoid any kind of clash of events.
In case of cancellation, please be advised that Pink
Ribbon needs to be informed 4 days prior to the event.
Pink Ribbon will not sponsor any illumination activity.
However, a list of good and cost-effective vendors of lights can be share upon request.
Pink Ribbon would facilitate you to provide you with necessary information about conducting illumination.
Pink Ribbon will support you in completing the event successfully but the event will be organised by your organisation
Please find enclosed herewith the registration process. We request you to fill out the form and send back to us so we can book the date for you. Kindly share your consent and registration form latest by September 16th, 2020
With your support, we can reach out to millions of people and highlight the importance of breast cancer awareness.
Registration Form Pink Ribbon Illumination Campaign 2020